A Guide to Designing Your Real Estate Marketing Materials
In today's real estate market, a solid marketing strategy is key. Convey your reliability, hard work, and overall brand with a high-quality design across your printed marketing materials. Color & font Design starts with the basics: what colors do you want representing you and what persona woul...
---
Three Tips for Creating a Cohesive Design for Your Printed Materials
Believe us when we say: a client notices brand uniformity. It may not seem important at first, but how a company presents themselves across all platforms is the business equivalent of making a good first impression. One of the best ways to do that is with a consistent and solid presence across all p...
---
Five Advantages of Digital Printing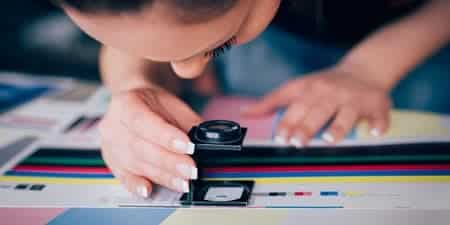 Businesses are ever-evolving, striving to stay up-to-date with the latest trends, emerging technologies, and changing customer preferences. In order to remain successful and stay on top of industry and customer demands, you need a reliable, affordable and quick printer that can keep up with your tim...
---
Packaging: The Critical Bridge Between You and Your Customer
For too many companies, packaging is often seen as an afterthought. Looking to keep costs down, they often include minimal packaging without thinking about how this may affect their product perception down the line. High-quality product package printing and artwork are one of the 'hidden secre...
---
How to Choose a Commercial Print Service
As one of the oldest industries in the world, commercial printing has been around for centuries. However, not all companies are created equally. The commercial printing company you choose will have a significant impact on the project as well as your brand image. As a result, it's vital to choo...
---
Offset Printing vs. Digital Printing: When to Use – the Pros & Cons
When it comes to deciding on which commercial printing process to use, most designers are torn between using digital or offset printing. While every design project is unique, it is paramount to understand the difference between offset printing and digital printing as well as the pros and cons, to ma...
---
How To Format Your Fashion Lookbook
The key to making great clothes is the marriage of quality and design, and lookbooks aren't any different. To showcase your brand's unique vision, your lookbook should follow similar fashion rules: professional, streamlined design, and expert printing and production. Follow these suggestions on ...
---
Showcase your Brand's Success with Customized Annual Reports
Whether your business is already established or just starting out, your annual financial reports are an important opportunity to illustrate your vision and ambitions to shareholders, employees, and the press. At Sheer Print Solutions, we partner with experienced designers to ensure that your annual ...
---
Sell Your Brand and Your Inventory: Real Estate Print Marketing that Wows
All real estate professionals know that when it comes to selling homes, real estate print marketing is not dead. In an industry where lasting impressions are as important as first impressions, every realtor must cultivate their brand online and off. According to Inman, "studies have shown conclusi...
---
How Do I Find the Best Printer in NYC?
Finding the best printing services in New York can be overwhelming with the number of qualified commercial printers in NYC. With all the print terminology – digital printing, digital offset printing, variable printing, short run, long run offset, large format, pre-press, finishing, etc. how do...
---