When it comes to sending a clear message, printed banners excel. Whether you want to captivate trade show attendees or add a personal touch to your parties and celebrations in New York, banner printing offers an array of choices for both indoor and outdoor settings. If you're looking to make an announcement or promote your business, explore the diverse options available with banner printing New York.
For example, banners that will be used only once and for a short time can be printed quickly and inexpensively, but it may be wiser to choose a more robust material if you plan to reuse your banner or hang it outside.
Here is some information that could make your decision a little easier.
Vinyl Banners (Best for Outside)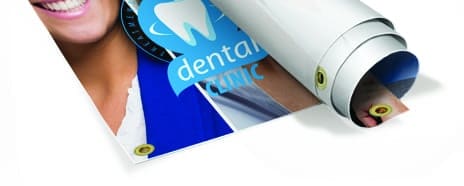 Vinyl Banners are commonly made out of standard 10 to 20-ounce vinyl-coated polyester. Banners made out of vinyl can be seamless for up to 50 feet and are usually held in place with nickel grommets placed a foot or two apart. If even more strength is needed, the edges of a Vinyl Banner can be folded over and heat welded to reinforce the sides. Printing on solid vinyl also allows for thicker material and either matte or glossy finishes.
Vinyl Banners: Pros and Cons
Pros: If you are looking for NYC outdoor banners, Vinyl Banners are suitable since they are extremely tear-resistant and durable.
Cons: Storing and shipping Vinyl Banners is more challenging because they are heavy and must be kept inside thick cardboard tubes.
Pros: Vinyl Banners in NYC can be printed on both sides to double their impact. This capability also means they are generally less expensive to print.
Cons: While Vinyl Banners offer excellent value for money and are a good choice for outdoor banners in NYC, there may be more affordable options for banners that will be used only once and indoors.
Pros: Printing on vinyl produces predictable and consistent results, which reduces wastage and lowers costs. Vinyl Banners are also easy to hang and can be printed with either a matte of glossy finish.
Con: Vinyl is easily scratched and damaged. Even durable NYC Vinyl Banners can be damaged by the wind. Cutting slits in banners is one way to deal with this problem and using vinyl mesh is a better solution, which brings us to our next type of banner: The Mesh Banner.
Mesh Banners (Good for Indoor and Outdoor)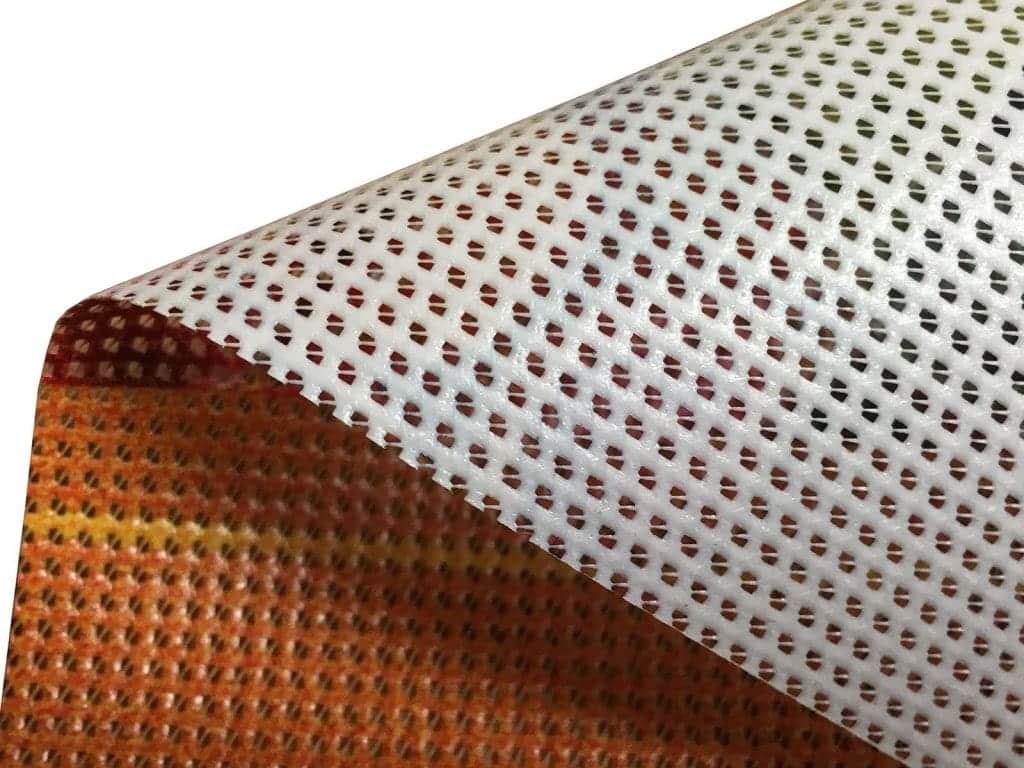 With today's capabilities for large format graphics printing, you can commonly find Mesh Banners used today at storefronts, birthday parties, school & sporting events, grand openings, small businesses, local fairs, and farmer's markets, and more.
Mesh Banners are typically made of 70% vinyl and 30% interlaced fabric material, which makes them more durable and breathable than solid vinyl banners. Like standard vinyl, mesh can be finished with grommets and hemming.
Mesh Banners: Pros and Cons
Pro: Due to their holes, Mesh Banners offer up to 37% more wind resistance, even with very large banners. Still – bring any type of sign inside when there are extremely heavy or gale-force winds.
Con: Although Mesh Banners offer more longevity than standard Vinyl Banners, they are more expensive.
Pro: Mesh Banners are slightly transparent, but full-color printing featuring graphics, images, and text is certainly possible. Bear in mind that backlighting can negatively affect its aesthetics because of this transparent nature, though.
Con: Only one-sided printing is available
Pro: They are excellent for indoor use, and their UV and water-resistant properties make them popular for outdoor promotional signs
Con: Colors and graphics aren't as vibrant as those on vinyl or canvas.
Canvas Banners (Best for Inside)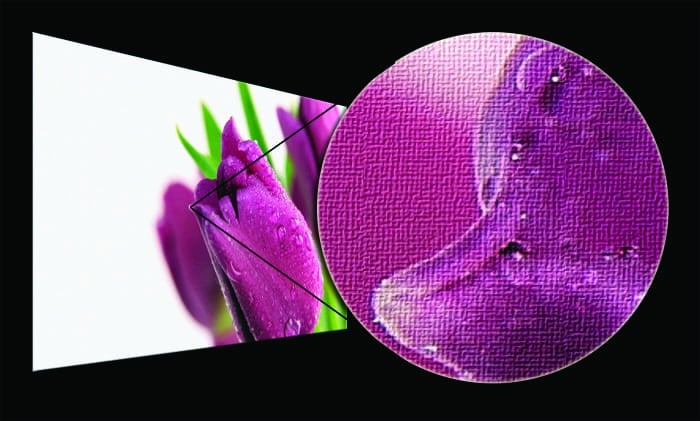 Canvas Banners are made by digitally printing full color on canvas, and the resulting look makes images pop with a bright and vibrant ambiance. The end result has the same essence and texture as a classic painting, and the technique used gives the banner an essence that feels substantial, deep, and rich.
Generally used for indoor business advertising outlets and trade halls, gorgeous Canvas Banners are quickly becoming a favorite go-to for home wall art & office decor solutions.
Canvas Banners: Pros and Cons
Pro: High quality and detail makes it perfect for indoor occasions and other intimate events
Con: It cannot be used for an outdoor advert because of its weight
Pro: It is better for backdrops or professional events due to its heavyweight nature.
Con: If the Canvas Banner material doesn't have a protective coating, don't wash the fabric under any circumstance. If you do, the colors can bleed and the banner may fade.
Pro: Its finishing is a grommet and sewn hem.
Nylon and Polyester Banners (Good for Indoor and Outdoor)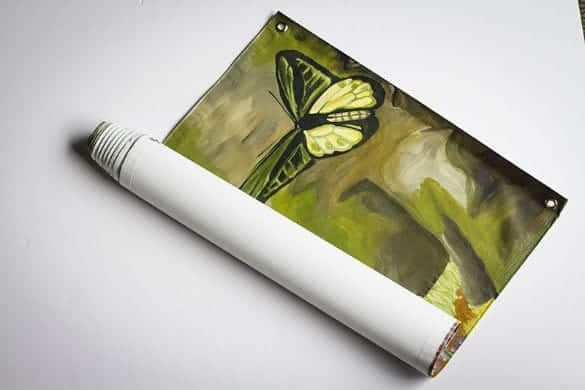 Banners made out of fabrics like nylon and polyester are extremely popular alternatives to vinyl. Fabric banners are good choices for outdoor venues, but they are also perfect for indoor ones, too, as they resist glare and are easy to read in artificial light. They can also be packed up and moved easily from place to place.
Fabric banners are usually held in place with grommets like vinyl banners, but their hems are sewn instead of heat welded. When fabric banners are placed in areas with strict fire codes, materials that are resistant to flames can be used.
Nylon and Polyester Banners: Pros and Cons
Pro: New York banners printed on fabric look elegant, and the material also photographs well because the light from flashes is absorbed rather than reflected.
Con: Fabric banners that have become creased in storage can be difficult to hang and require ironing. Adding a pole pocket at the bottom of a fabric banner adds slightly to the cost but could make dealing with creases much less of a hassle.
Pro: Storing fabric banners is easy, as they can be folded flat and packed away. They are also fairly light.
Con: While a fabric banner that is taken care of can be used again and again, materials like polyester and canvas do not handle rain and wind well and are not good choices for outdoor use.
Pro: Fabric banners are scratch-resistant and machine washable.
Con: Printing NYC custom banners on fabric penetrates the material and uses a little more ink than printing on vinyl.
Paper Banners (For Inside Only)
If you are planning a party or event and need banners that can be used once and then recycled, paper may be the perfect choice. People looking for cheap banners in NYC are often surprised to find that an inexpensive banner made out of paper can look just as vibrant and attractive as a banner made out of fabric or vinyl.
Paper Banners: Pros and Cons
Pro: Printing on paper is quick and easy.
Con: A Paper Banner is not going to put up with much punishment. For instance, paper may be a great choice for a welcome message, but it is probably not the best material to use for banners in New York that will be on display at a busy venue for several days.
Pro: Banners made out of paper are light and can be placed in cardboard tubes for transport.
Con: Paper Banners should be handled with care as clumsiness can lead to ripping and tearing.
Pro: Paper Banners have crisp color and a clean look.
Con: Even a small amount of water can ruin a Paper Banner.
Adhesive Banners (Good for Indoor and Outdoor)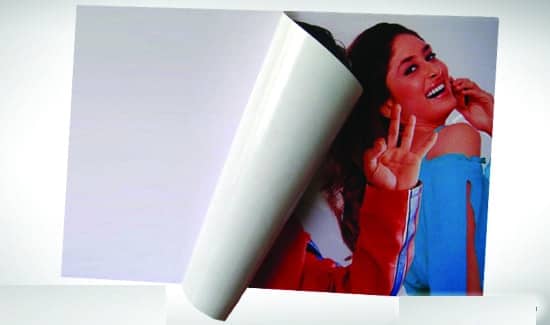 If you've ever seen an advertorial banner on the side of a bus or a colorful advertisement splashed all over a car or truck, it was likely an Adhesive Banner. Typically printed on clear or white adhesive vinyl, these eye-catching banners can be placed on lighted signs, your home's walls, windows and ceilings, park benches and more. They're plenty durable, too, and as an example, floor decals made in this style are made to withstand almost endless foot traffic.
Adhesive Banners: Pros and Cons
Pro: Banners are easily affixed to almost any smooth, flat, and clean non-porous surface and leave no residue.
Con: Trained graphics or sign company personnel must remove adhesive banners and wall graphics.
Pro: Adhesive banners can be used to wrap the entirety of a bus or other vehicle, including the back, sides, and top.
Con: The surface must be thoroughly cleaned and detailed prior to installation.
Pro: Banners are available perforated to spread over windows.
Con: Adhesive banners are typically made out of vinyl, which is easily scratched or damaged.
Pro: It is a very affordable type of ad system, allowing you to promote your brand, products, and services in almost any location.
NYC Banner Printing
The banners you use send a silent and powerful message, so it makes sense to think carefully before you decide what they should be made out of. The experts at Sheer Print Solutions have been saving New Yorkers money for more than half a century, and we can help you to sort through your options and make a smart choice. If you would like to learn more about custom banner printing in New York, , you can call us on (212) 627-1500 for a free quote or fill out our online form.