A well-designed catalog is your everyday selling machine. Printing catalogs in numbers work as an army of salespeople. When a catalog is designed and printed well it captures on paper everything that's good about your business. Sheer Print Solutions offers the best catalog printing services in Manhattan, NYC.
Choose paper stocks and finishes that are aligned with your brand:
Printed in full-color

Double-sided

Glossy, matte or silk finish

Folding and binding options
While it is hard to come up with catalog collateral that stands out, the accomplishment can bring results. Build a booklet that will turn heads whether it is for a door company, a grocery store, or any other retailer, take the time to invest in a catalog for your customers. The power of imagery and written words with a catalog a person can hold onto is vital in such an overwhelming tech world. People like touching paper and looking at visually appealing content. It takes a lot of time and effort to create a catalog but it is well worth the investment.
Offset Catalog Printing
Sheer Print Solutions offers offset printing options that are cost-effective for larger runs, while the other solution is digital on-demand catalog printing. You can order catalogs in smaller quantities such as a quantity of 50. The benefit being that you can constantly update or customize your Catalogs for a specific event, group or marketing campaign.
Why Catalog Printing?
Less Swiping and Back to Basics
Between scrolling, tapping and endless swiping, using the internet to find your product can be very tiresome. Providing a catalog for your customers is a better experience than using a website. When you create a catalog designed right, you can really connect the prospect with your brand, giving them a feel-good experience. The internet is oversaturated with marketing messages and people are tired of scrolling and receiving online advertisements. Giving a person something they can touch and feel will set you apart from the mass amount of people utilizing the internet to grab people's attention.
Increase Sales with Stylish Catalog Printing 
Catalog printing offers an advantage over other marketing mediums. You can design it so it's easy on the eye with a nice feel using high quality paper. Being able to use your hands and physically touching a catalog is preferred over scrolling through an online catalog. With glossy paper and vivid images, you can be sure a prospect will want to buy your product after looking through a catalog. Direct mail works and providing materials that a person can look through physically with visually appealing graphics and design will help grow your profits.
Create a Catalog
Be prepared to have all the essentials before creating the catalog such as:
High-quality pictures

High-quality content

A vision

Think about the goal of the catalog
You can use a free catalog maker such as flipsnack. Also, add your contact information on each page of the catalog so customers can easily contact you.
Types of Catalog Printing we Offer
Step Page Catalog

Booklet Style Catalog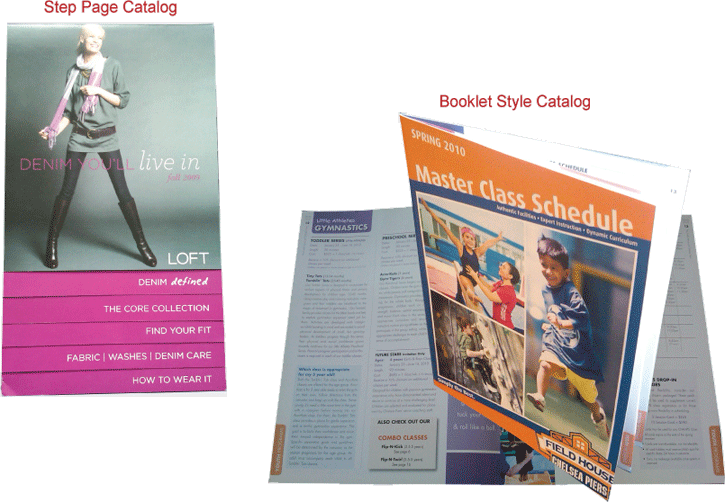 From start to finish, we're committed to making your catalog printing process as easy and affordable as possible. 
Call Sheer Print Solutions at 212.627.1500 for an appointment and visit our showroom. We have hundreds of these complete printed catalogs on display in NYC for you and your creative team to view.
Catalog Printing Services Resources
---