Custom Label Printing in NYC
Stickers are a great way to promote your business, brand, or product.
Along with offering a way to sell your product or service, labels also serve the important function of warning customers about hazardous materials, or warnings for workers on safety issues.
Labels are everywhere, and if you are developing a product in New York City, We're Sheer.
Our custom label printing services and printed stickers in Manhattan, NYC are produced on top-of-the-line digital and offset presses by experienced printers who bring an artisans' touch to their work.
Experience custom label printing in NYC with Sheer – get full-color, eye-catching labels for a new packaged item, window decals, or promotional stickers for your next political campaign.
What is Labeling For?
Labeling is how businesses brand themselves, identify instructions for consumers, and direct attention to a specific action.
Labels are for the moment the customer finds themselves in contact with your product or service, so it needs to be perfectly executed – a crisp print, done consistently and with long-lasting adhesiveness.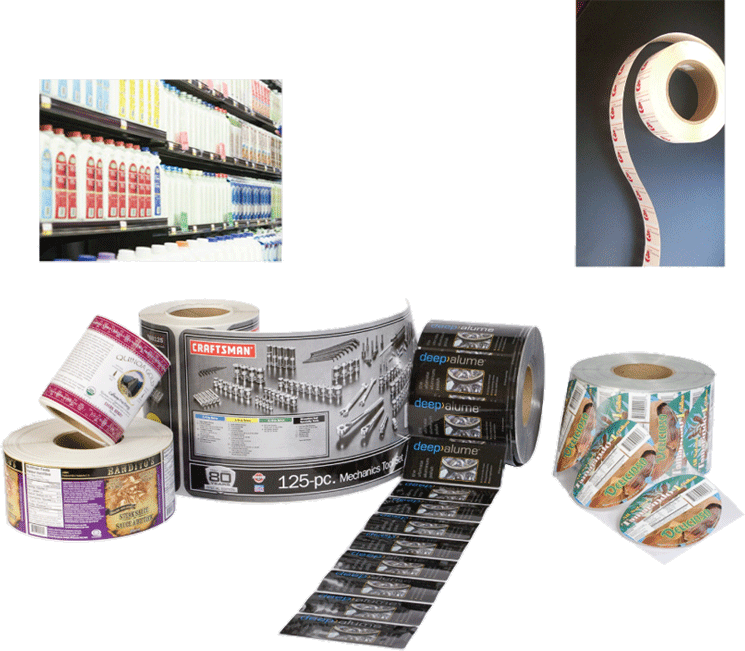 Types of Stickers
Labels and stickers have many different uses, including:
Brand Label – A label that features your logo, or content closely associated with brand identity.
Grade Label – A label that describes aspects, features, or conditions of a product.
Descriptive Label – A label that describes a product in better detail, often with a focus on step-by-step instructions.
Another category of labels, legal labels, are crucially important. If there are any warnings you need to provide with your product, such as identifying hazardous materials associated with your product, the label must be printed clearly and consistently – every time.
Types of Finishing for Labels
The finish of a label is an important feature for your product.
If your label is being adhered to a box, does the finish compliment or clash with the finish of your product packaging ?
If your product is on the shelf amid many others of the same type, even these fine considerations can make or break the success of your product.
Before contacting us, think about the finish of the label you would like to order:
Glossy Finish – When printed with top materials and machinery, gloss labels should have a smooth, glass-like finish.
Matte Finish – A perfect matte-finish label draws attention as it promotes friction between the handling of your customer and the product. Well-printed matte finish labels are consistent in their roughness, yet still capture the shine of light like gloss.
Material Types for Labels
Next, think about where the label is performing its duty.
If a label is meant to be outside, you'll want to print yours with a durable material that is weather-proof, peel-proof, and water-resistant.
If your product is sitting indoors, then standard cuts of label paper and various other materials used for stickers will work fine.
Some of the most popular materials for stickers and labels include:
Polyester – A durable polymer that is perfect for outdoor use.
Vinyl – Also known as PVC resin, vinyl is a popular material used for stickers on indoor-staged products.
Lithograph Paper – A finer label material often used for high-end products. Its ability to hold gloss is second to none.
The Best Label Printing in NYC
We make it our business to understand your needs and sticker use.
Labels need to be printed perfectly, every time. That means your label printing needs to have the widest selection of materials and skilled printers to hone in on your particular label printing needs.
We are your label and sticker printing New York company – we are Sheer.
Contact us now and we'll get started on producing eye-popping labels and custom stickers. NYC customers can receive a quote for any order, or call us for more information–212-627-1500.