Digital Printing NYC
Sheer Print Solutions offers both traditional offset and digital printing in NYC. When needing a short-run, digital printing is more cost-effective and can produce similar high-quality documents as offset printing. One major benefit is the ability to print a sample for approval before a job gets started. At Sheer Print Solutions, we include this as part of our normal workflow process at no additional cost to you. Digital printing services are the right solution for your short-run printing needs, especially materials needed right away.
Digital printing services in NYC have never been better.
At Sheer Print Solutions, we utilize the speed and power of digital printing for small jobs and those which require a quick turnaround. As NYC's premier printing service, we operate in a New York Minute, when you need a job done fast.
Digital printing makes the whole process of printing simpler and easier, and allows for faster turnaround than the traditional offset method.
Advantages of Digital Printing
Whereas offset printing – and other analog printing processes – require setting up printing plates for each job, digital printers are ready-made to get started on your next job.
Digital printing offers quick turnarounds because there is almost no set up. And, the quality of digital printing in recent years has skyrocketed, making this more advanced printing technique increasingly popular for many types of jobs.
Types of Digital Printers:
Sheet-Fed Production Printers – These are your standard digital printers fed with reams of paper in varying sizes. Most standard copy jobs and print jobs on regular paper are done through these types of printers.
Cut-Sheet Digital Press – A digital printer with a continuous feed of paper. The printer has a mechanism that cuts the paper roll to the needed length for any print job.
Process of Digital Printing Services
Step 1: Give Us Your File
Our print professionals get to work sizing and optimizing the file or files for your print job to make sure they come out right the first time.
Step 2: PDF Proof
Upon receiving the file from the client, we provide a free PDF proof for approval. If changes are necessary, we provide additional proofs. Our skilled print technicians understand getting the proof right as soon as possible gets your job quickly to the next step in the process.
Step 3: Printing Proof
After the PDF file is approved, the file goes directly to print with a digitally printed proof for final approval. This step ensures that not only the proof is correct, but that it will print exactly as you had hoped. Final revisions to the proof take place here before your job moves into production.
Step 4: Digital Print Production
We establish a schedule for start time and pick up, and move forward to deliver on our promise for timeliness and quality, no matter how large the job.
Once your high-quality digital printing is done, we prepare it for pick up, or ship it out immediately, depending on the customer's individual needs.
If you need quality, on-time digital printing services in NYC, we're Sheer, and we're here for you!
Digital Printing Presses
We print with high-end Konica, Indigo, and iGenXL digital presses to produce the very best quality possible with digital printing. In addition, we calibrate our digital presses on a daily basis in order to assure color accuracy and repeatability.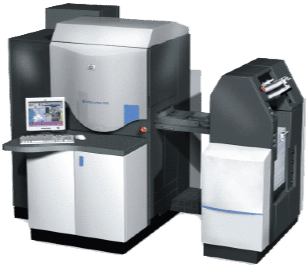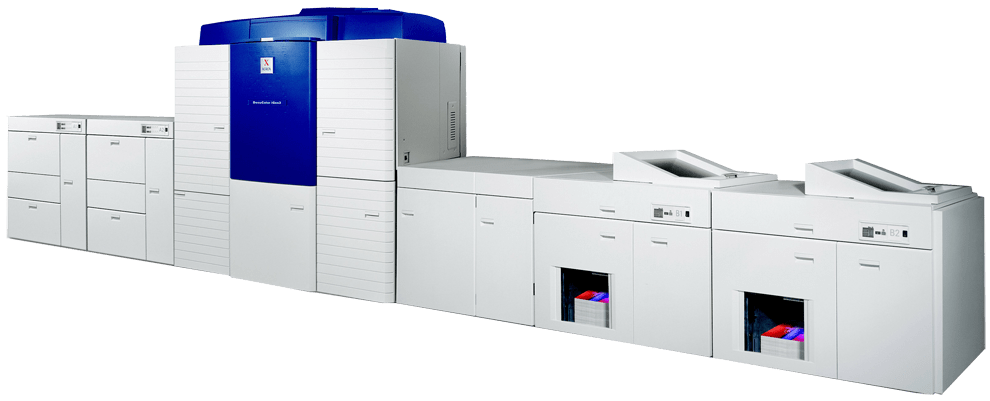 Since we print on high-end Konica, Indigo, and iGenXL digital presses we are able to produce the very best quality of rush printing NYC can experience. In addition, we calibrate our digital presses in order to assure you of color accuracy and repeatability.
High-Quality Digital Printing Services For Westchester, NY and The Five Boroughs
Upon receiving your files we process them at our NYC digital printing facility. We will send you a free PDF proof of your file for your approval. If changes are necessary, we will show additional pdf proofs.
After this PDF file is approved, the file will go directly to print a digitally printed proof for your final approval. Upon your ok, we will proceed to print, finish, and ship your job, almost immediately. A schedule will be communicated to you so there are no surprises.

Sheer Print Solutions' digital printing team in NYC works diligently to understand the impact of everything we do. We have work and implemented business practices to become, not just a more sustainable business, but also a restorative one. "Going Green" is more than just a buzzword here. Founded on a love of the outdoors and a passion for printing, advertising and marketing, we recognize that we need to reduce our footprint through the choices we make. As our digital printing services in NY continue to expand, we must maintain four equally important aspirations: sustaining our brand, our people, our community, and the planet.
Contact Us Now
If you need fast and reliable digital prints, then give us a call today: 212-627-1500
Our team can provide you quotes, pricing, and any additional details you may require.

Additional Digital Printing Resources
---