The Inside (and Outside) Scoop on Display Banner Printing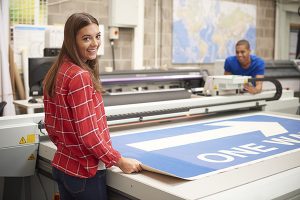 Banners are a great way to get attention and market your products and services.
Banners are commonly seen outdoors or indoors at events, public facilities, tradeshows, concerts, political rallies, fashion shows, fundraisers and sports events. They can be relatively small or as large as the side of an entire building!
Indoor Banners vs. Outdoor Banners
Banners are differentiated by usage and material with usage largely determining the material used for display banner printing.
Banners used outside include:
Light pole banners – An attractive banner option often used by municipalities and event promoters anywhere light poles are available.
Outdoor hanging banners – Can be hung on the sides of buildings or other structures, strung across streets, on frames or in between poles.
Fence banners
Sports banners
Double-sided sandwich boards
Common types of banners for use indoors or out include:
Display banners are used as part of a display that could include various types of banner stands such as retractable, pop-up, telescope or A-frames.
Table banners
Drape banners
Background banners including step-and-repeat banners (often seen at fashion shows, celebrity runways and news events).
Aisle markers
Hall banners
Podium signs
What Banner Materials Are Best For the Job?
Vinyl Banners
Vinyl is the most commonly used banner material. Vinyl is durable enough to withstand the elements yet light enough to be hung indoors. The material works well with display banner printing, ensuring that your banner can last for years.
Display banner printing uses high quality 13oz scrim vinyl, which is rated for indoor and outdoor use. Hems can be heat-welded and grommets placed every several feet around the banner perimeter to make hanging easy. Additional finishing options for display banner printing services include pole pockets, reinforced hems and reinforced corners.
Banners can be full color and include text, background images, photographs and clip art or they can be one color text only (the low-cost banner option).
There's also a biodegradable vinyl material that's similar to the standard white matte vinyl with the added eco-friendly benefit of being compostable in landfills. Avoid biodegradable vinyl if you plan to use your banner for a long time, especially outdoors. Though the process could takes three to five years, biodegradable vinyl will eventually break down.
No-Curl Vinyl Banners
No-curl vinyl display banner printing uses a heavier 14-oz vinyl in full color. This material is suited for high-end displays and banner stands.
Mesh Banners
The mesh material used for mesh banners is manufactured from polyester fibers, which are crisscrossed thereby allowing air to pass through the material making it less wind resistant and more resilient for outdoor use in windy areas. They're somewhat opaque, but once printed, display well. The advantage over vinyl banners is they are less likely to rip or blow out of shape.
Mesh Banners are commonly used at sports fields or for advertisements. Sometimes they're hung on the sides of buildings allowing some light to pass through to the inside and allowing those inside to see out. They're usually printed in full color on 10oz scrim vinyl and is a good alternative to cutting wind slits in solid vinyl banners.
Canvas Banners
Canvas banners are ideal when extra high quality, sharp detail, and vibrant colors are needed. While they have a heavier feel to them, don't be fooled as they won't stand up very well to the elements and are better suited for indoor use. Canvas display banner printing is commonly used for high-end backdrops and can be finished with sewn hems, grommets and/or pole pockets.
Fabric Banners
Fabric used in making banners can be made from poplin or other high-end materials such as satin. The cost of fabric banners vary greatly based on the material used with the higher-end materials having a rich look and feel. Fabric is usually printed on a screen press (as opposed to the digital process used with vinyl banners). This means that the ink goes through the fabric instead of just sitting on the surface resulting in brighter, more vibrant colors. This method of printing does, however, limit the design options. Usually fabric banners are not used outdoors as they simply are not as durable as vinyl.
Paper Banners
Paper is used occasionally to print temporary banners. All the options usually associated with standard print are available and, while a relatively cheap banner option, paper banners are not very durable.
Sheer Print Solutions is Your Best Source for Banner Printing
By considering how and where a banner is to be used and how long it will be displayed, Sheer Print Solutions can help you choose the banner type, style, and material best suited to your needs.
Banners are a powerful and cost-effective way to promote your products and services in any number of environments.
Call us today at 212-627-1500 or fill out our quote request form if you'd like to learn more on how banners can support the success and ROI of your marketing efforts.
About The Author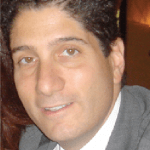 Craig Sheer is the owner of Sheer Print Solutions, located in New York City & Portchester, NY. We are the proven leader for affordable, high-quality Digital and Offset, and Large Format Printing in NYC. Sheer Printing Solutions is your single source for solutions to all your printing, binding, warehousing and fulfillment needs.