Top Selling Products Printers Provided in 2019 vs 2020
Contrasts the State of the Industry Today
In a watershed moment, Johannes Gutenberg invented the printing press in the 1400s. Printing technology has grown in leaps and bound since the inventor paved the way, but who could have imagined where we are at in the printing industry now?
In fact, the industry is now worth about $898 billion per year and supports about $3.8 trillion in related industries such as book sales, advertising and marketing. In the United States alone, we print and share over a trillion pages of information annually. This massive commercial printing market typically tracks pretty well with the economy, too.
As we push into Q3 of 2020, it is a good idea to look at some past trends and present and future factors that impact or elevate sales for printers. Sheer Point Solutions in NYC will also provide a look at the top-selling products provided by printers and other factors to forecast what lies ahead.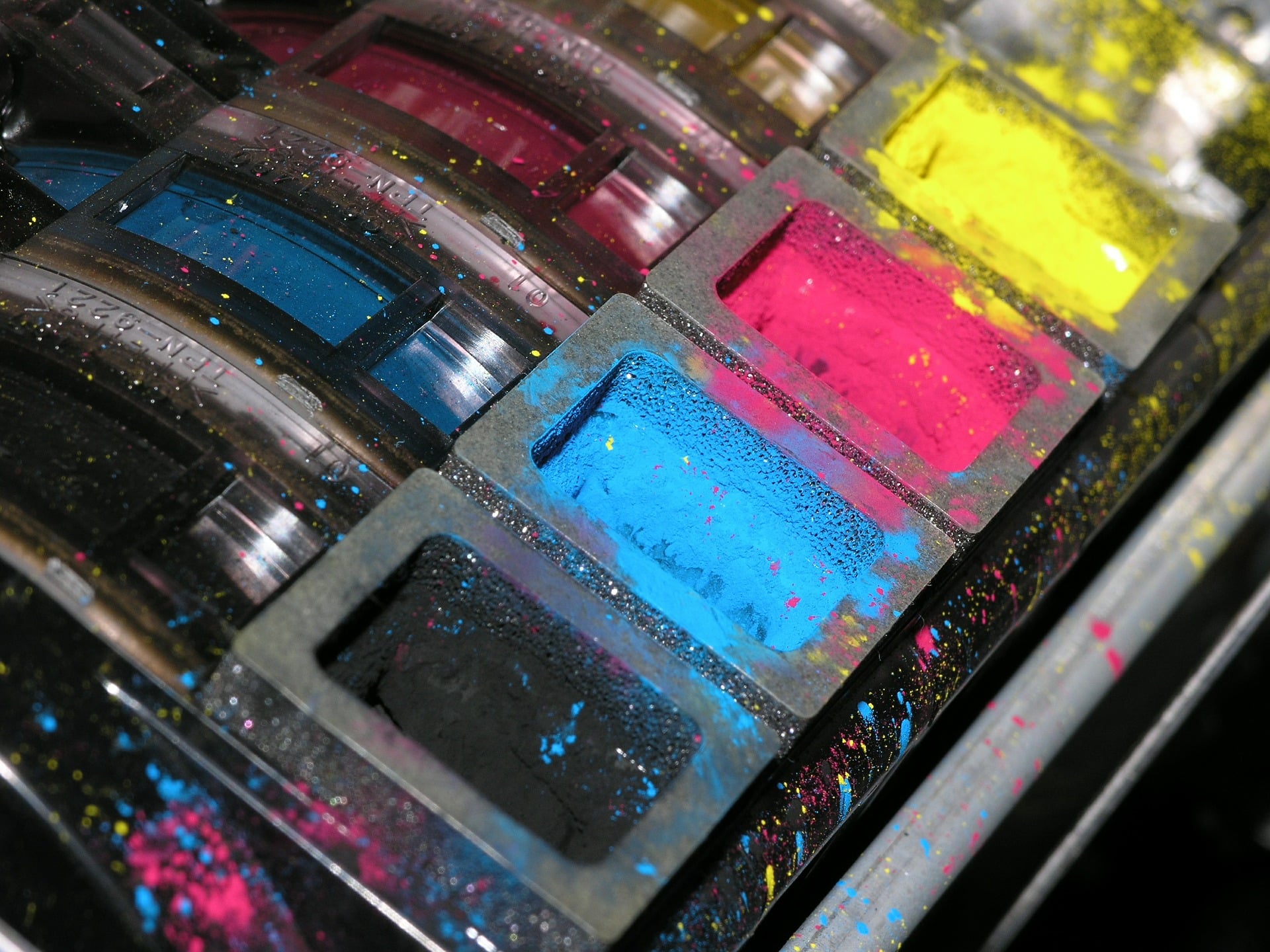 Print Market Forecast
The printing industry's profits have been in a state of recovery since the Great Recession, but since its end in June 2009, print markets have continued to flourish. This uptick was particularly true throughout 2018 and into 2019.
Profits, as a percentage of sales, have remained steady or have increased annually, except for a dip of -.3% from 2015 to 2016. More growth was forecasted in this metric for 2019, landing somewhere in the range of .3% to .5%.
For 2020, COVID-19 shutdowns may temporarily intrude on this healthy trend, and we already see some paradigm shifts. Losses are not anticipated unless there is a recession, which hasn't happened so far.
Six Reasons Printing Industries Flourished
According to the "2019 State of the Industry Report" put out by the Center for Print Economics and Management & Government Affairs and Advocacy, there are six reasons why printers and printed media flourished since the recession ended:
Print hit its sweet spot during the mature recovery stage of the economy.
The most substantial part of the displacement of print by digital media is finished.
Labels, packaging print services and wrappers acted as an anchor on print sales, and they typically track closely with the economy.
Currently, print promotion & marketing, especially when it comes to direct mail, has illustrated its effectiveness as a top marketing and promotional media.
The print sectors hardest hit by digital media, informational & editorial print (books, newspapers, etc.) have experienced healthy growth.
Printing companies have adjusted their business models to consider new industry realities and trends.
Key Print Industry Trends
Representatives that work within the printing industry are often the most accurate at forecasting what printing products will be the most sought after. Because of that, a survey given to numerous printers to ask them what they perceived would be the most prominent types of products in 2019.
They told the market researchers that direct mail, labels, POP displays, package manufacturing and specialty printing would be in the most demand among customers.
Furthermore, they also predicted that the following ancillary services would be the most sought after by clients: Kit fulfillment, logistics management, database management services, Web-to-print E-commerce style storefront (print procurement) and Web-to-print E-commerce style storefront (brand & document management, marketing).
Print Processes Provided by Printers
The printers' prediction for what products and processes will be in the most demand was primarily driven by what they observed that happened the year before. Before looking at the top printer products in 2019, it is important to know what went on in these commercial printing facilities in 2018.
To find out more, printers were quizzed about their printing processes and sales changes in the past few years. The resulting data were analyzed to determine which ones were the fastest-growing verticals specialized in regards to printing industry customers.
The following graph represents the nine top processes used throughout the printing industry, along with products and services produced in these companies.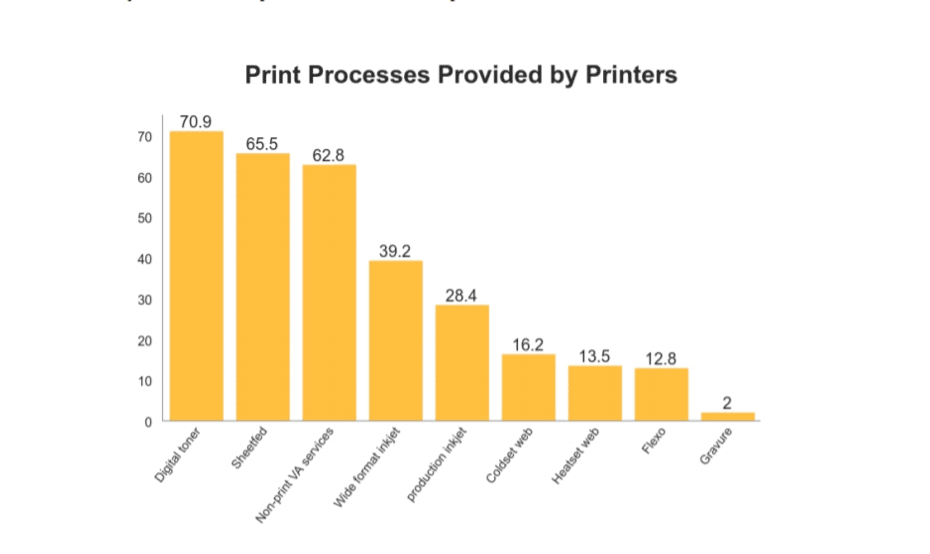 As you can see, the data shows that digital toner-based print was the fastest-growing print process, followed closely by high-quality sheetfed services that are the most suited for large volume printing jobs.
Non-print ancillary services, which came in third, are interesting for reasons we'll touch more on later. Printing companies expanding into non-printing disciplines, such as those found in ancillary support, know that sales opportunities can increase substantially, especially if they allow them to respond quickly and adapt to a changing marketplace.
In contrast, heat-set web, the darling for longer print runs of catalog and magazine production, lagged behind others. Sales declined in heat-set services because of the diminished scale of printed media due to digital trends and competing technology. Flexo and Gravure trailed behind it, but heat-set web was the only service in the survey that experienced decreased sales.
Top Products Provided by Printers
You can easily forget just how encompassing the printing industry's scope is until you look at the vast array of products manufactured by them. The following bar chart exemplifies the top products provided by the commercial printing industry within the last year.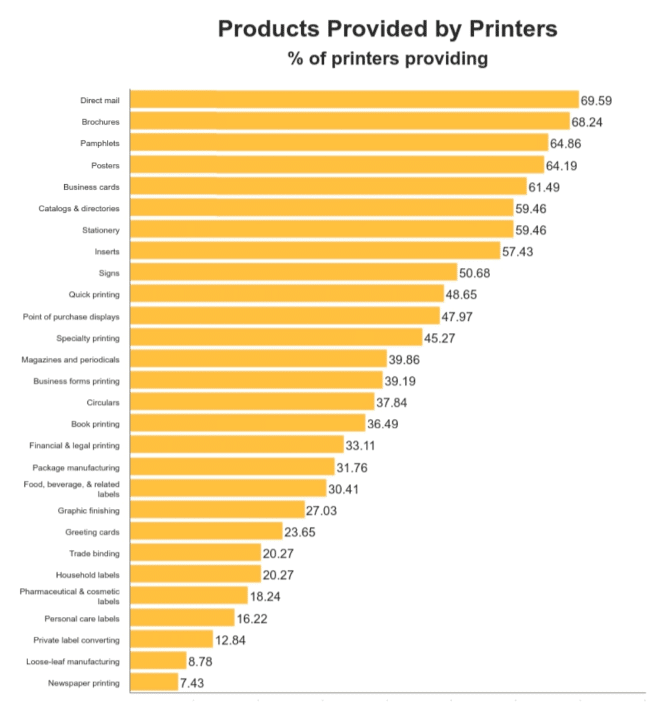 Direct Mail Media Tops the Chart
The chart indicates a strong showing of demand for direct mail media in 2019 and validates the printers' predictions that it would continue to be a strong performer. This year especially sees direct mail and digital media duking it out, and direct mail often comes out on top, too. In fact, many people are hitting the delete button on the latter.
In addition to direct mail being listed as the top product provided by printers, the sector continues to do well in the troubled times of COVID-19. In a survey, 43 % of customers felt brand communications are reassuring now, and 56 % of those surveyed said they liked finding out about how brands are currently aiding their communities.
The conclusion is that when it is well-produced and pandemic-sensitive, direct mail is often welcomed over that supplied by digital media.
Printers' Ancillary Services
The chart shows that physical products are the prominent driving force behind the printing industry. Still, it is vital that industry leaders not discount the other services commercial printers can provide.
In brief, it is always a good idea to adapt strategy if demand dips for a product or research garnered from a changing marketplace indicates that printers should follow a different approach.
Also, and as seen in the case of the previous section, Print Processes Provided by Printers, printing companies that expand into ancillary support functions and other niches can exploit new market opportunities and increase sales.
The chart below shows recent trends in the top ancillary services that were provided by printers.
Significant Impacts on the Printer Industry
Many aspects can affect profitability, and they are constantly changing. As they present, it's definitely ideal to know what they are for planning purposes and risk management.
Printing and Imaging Association members were recently asked to participate in the annual Legislative Priorities Survey to see what issues printers were most concerned about going into 2019. They ranked impacts on their company on a 5-point scale to determine each one's importance. In descending order, the table below lists the most popular issues, along with the percentage of firms weighing in that said the following would likely have a considerable impact on their operations.
| | |
| --- | --- |
| Description of issue | % of Companies that Responded |
| Cost of employer provided health insurance | 89.13 |
| Tariffs on imported raw goods such as paper & aluminum | 71.11 |
| Rates for postage | 70.33 |
| Corporate Income Tax complexity and compliance | 60.44 |
| Transportation regulations and costs | 58.24 |
| USPS cost of their modern postal reforms | 56.04 |
| USPS operational regulations | 54.94 |
| Rising and current facility energy costs | 54.34 |
| Capital gains and dividends taxes | 48.91 |
| "Do Not Mail" drives and initiatives | 48.35 |
Other issues rounding out the list to lesser degrees include the preservation of advertising tax deduction, workforce development and retention, trade agreements between U.S./Mexico/Canada and preserving customer choices for paper options to government information and services .
COVID-19 Shifts Current Printer Industry Focus
There have been some marked impacts to the printing industry due to the COVID-19 pandemic. On the other hand, new opportunities were created because of this, as well. As noted previously, we already see it changing the importance of direct mail media.
Earlier, we learned that one of the six reasons that printing industries flourished is that they quickly adjusted their business models to consider new industry realities and trends in the marketplace
In light of that, print industry players will need to change and adapt in the face of COVID-19 challenges and opportunities to remain viable, especially in the business environment of New York City.
The landscape of the print business is always evolving, and flexibility is needed to meet challenges, a distinguishing characteristic that Sheer Print Solutions in NYC always thrives upon.  As a custom print provider, we've always been excellent at adapting to new trends and helping our clients with specialized printing solutions.
Logistics & Promotional Outlooks
One service related to logistics that is skyrocketing is increased shipping. As such, printers are capitalizing on the trend and focusing on supplying custom packaging and labels.
When it comes to advertising and promotions, many brands are taking a step back from advertising temporarily in response to global pandemic sensitivities. These pauses will help them rethink their creative market strategies to better adjust and account for coronavirus realities, especially when it comes to being sensitive to its impact on lives.
What will emerge is a new demand for advertising and promotional material and new opportunities for printers.
Other Current Product Focuses
In some instances, demand has shifted from print to digital because of COVID-19. That being said, printing companies will always be vital to helping their clients communicate effectively with their customers. That need doesn't go away.
Remember reading where printers indicated that labels and custom packaging would be hot products? They were right, and they have come to the forefront in 2020, even though they barely cracked the top 20 of the top printer products sold in 2019.
Now, printing companies of all stripes are providing both custom labels and packaging for their clients. As apprehensions surrounding the transmission of the virus outweigh any worries over excess packaging, pharmaceutical, food & beverage, medical device and other sectors are all ordering both custom labels and packaging.
Printers have also seen increased demand for COVID-related caution and way-finding signage from retailers who want to reassure their customers that they are taking all the necessary regulatory and safety precautions. Other printers are supplying printing products such as plexiglass shields to their clients. The substrate provides a barrier that protects people from getting the virus.
Lastly, any lull that the printing industry is experiencing is most likely temporary. There's still plenty to do between printing, preparing COVID-19 banners and signage, PPE manufacturing and helping customers get ready for their reopening.
Mission Critical: COVID-19 Test Kits
Recently, all residents of NYC were advised to be tested for COVID-19. Sheer Print Solutions is proud to be a part of the solution that helped distribute these much-needed test kits. For the project, we were tasked with printing large quantities of collateral for individual and corporate test kits for Vault Health (see photo). We are happy to report that we met our goal of providing the collateral, and this mission critical project just goes to show you how the world of the printing industry is vital and constantly changing.
Resources:
2019 State of the Industry Report Center for Print Economics and Management & Government Affairs and Advocacy
Impact of COVID-19 on the Commercial Printing Sector - Opportunities in Coronavirus-related Signage and Plexiglass Shields
About The Author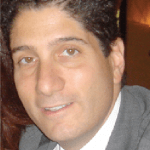 Craig Sheer is the owner of Sheer Print Solutions, located in New York City & Portchester, NY. We are the proven leader for affordable, high-quality Digital and Offset, and Large Format Printing in NYC. Sheer Printing Solutions is your single source for solutions to all your printing, binding, warehousing and fulfillment needs.